Treasured Stories, Poetry and Song l Together We Create


My name is Lisa Hort and I am the founder of Unique Collaborations. I am embarking on a new creative communities project,

Treasured Stories, Poetry and Song - Together We Create
A project that brings together technology, historical images, shared moments, meaningful engagement and stimulating conversation especially designed for people living with dementia and their carer or support person.
For this unique project, I have engaged the creative expertises of Graeme Atkins, a local and well-known musician & songwriter with the lived experience of dementia and internationally recognised poet, Gary Glazner, founder of The Alzheimer's Poetry Project, Brooklyn, NY.
Together we would like to invite residents living with dementia and carer/support person from the Port Macquarie Hastings community to join us on a journey of intrigue, curiosity and stimulation over a twelve-week period for one hour a week.
You don't even have to leave the comfort of your own home, as this program will be delivered to you via the internet. Together we will chat, imagine and create stories, poetry and songs inspired by images and objects kindly provided by the Port Macquarie Museum.
You will receive a hardcopy of the Treasured Stories, Poetry and Song - Together We Create resource kit, containing all the instructions and delivered to you via Australia Post.
Each creative session will be recorded, collated by a professional videographer and available for us to revisit, reflect, and share at the completion of the project.
There are limited spaces available for this FREE program starting on the 27th of August, 2020.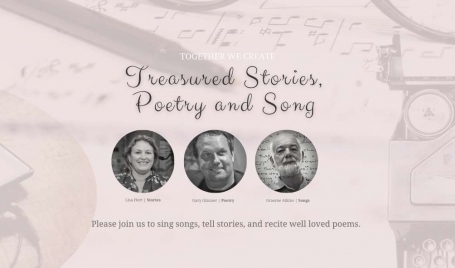 ---